Click here for example transcriptions (Baptism - simple and extended)
Click here for instructions
NOTE – Scrolling the page:
When there are too many search results to be visible in the index's window, scroll INSIDE it to move the list.  Scroll OUTSIDE to move the main window.
Number of search results per page
By default the system will retrun results in block of 50.  You can set this to a higher number on the search form before you submit the search: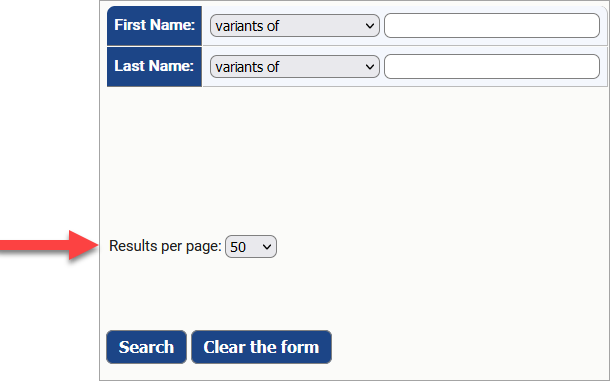 If you forget, press "Go Back To Search Form" on the results page.  Your search term will be remembered.  You can then select the number you want and repeat the search.
Search tips
Spellings vary, and we automatically include variants. If you need to be more specific, use the drop down selectors next to the fields to refine your search
Where original records are illegible we put a * in the transcription. If a search fails, try searching for *
Use the drop down selector to change the number of results per page
When viewing the search results, you can return to the search form to refine the parameters or start over by clicking the 'Go back to search form" button at the top of the search results page
Press the 'Reset' button to clear the entries and reset the default search options
If you find a match, you can view the full transcription by purchasing:
Berkshire Baptisms, Marriages or Burials CDs – if you're researching several places, time spans and names, these are the best value
An individual parish CD
Data downloads – subsets of  the transcriptions, broken down by place and date
All of these are available from our shop
If you have any queries please contact us here
Banns transcriptions are found on the Marriages CD and Data Downloads – they have been indexed separately so they are distinguishable from Marriages